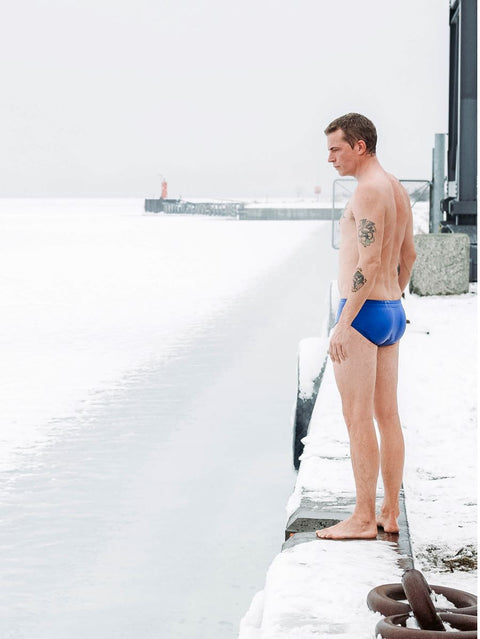 Art Director, Emil: 'I prefer to dip bare ass!'
Art director and co-founder of Polygraphic and outdoor-enthusiast Emil Holtoug has been part of the Pond Cph journey since the beginning. Emil has been deeply involved in designing the Pond1 Eco Swim Briefs - as a next best alternative to skinny-dipping ;)
Why did you start all seasons dipping?
I have always enjoyed dipping when the opportunity presented itself - regardless of season. When I was a kid, we bathed in Furesøen during the summer. As we got older we would always have some beers at my friend Mikael's house, and at the end of the night, run through the forest and jump in Farum lake. Even if we had to punch a hole in a thin layer of ice. Now I mostly dip, bathe and swim at my summer cottage.
What is your dipping routine?
When I am at the summer cottage my routine is a morning dip before breakfast before settling in front of the fireplace with a hot cup of coffee. Otherwise an after-work dip in the summer at Nordhavn or Svanemøllen.
How does it feel to glide into ice freezing water?
Cold!!!
Why do you prefer swim briefs when you dip?
I actually prefer to swim in bare ass! But my kids find it embarrassing, so when I'm with them, briefs is the best alternative.
Who are you inspired by for keeping up your overall wellbeing?
I get inspired by anyone who seems genuinely happy.
Can you share a dip-tip to Copenhagen harbour?
I prefer Nordhavn because of proximity or Svanemøllen when my 5-year old joins, because there is a small beach. But a place I would like to go more is 'Ungdommsøen' (Youth Island). You can take a boat from Nyhavn, and there is a pier and also a diving board. And they have shelters so you can even spend the night for a sundown or sunrise swim.