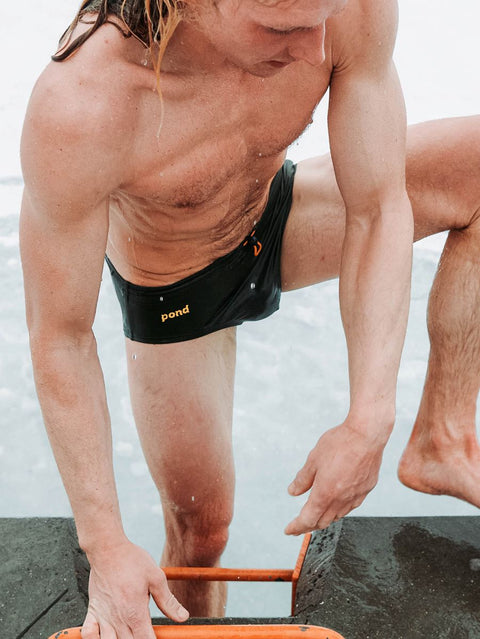 Pro-boarder, Joachim: 'The harbour is one big playground'
For this second edition of Pond Stories, a short interview format featuring true city dippers, it is a pleasure to welcome Joachim Clausen, world class snowboarder, wakeboarder, model and all round city water lover.
How do you use the harbour year-round?
If you live in Copenhagen, the harbour will undoubtedly be a part of your daily life. I cross a part of it almost every day and see it in all conditions and all it's perfect imperfections. The harbour has multiple uses for me. Summer bathing, winter bathing, wakeboarding, kayaking and SUPing, chilling and partying. 
You almost use the harbour as a man-made piece of nature, when you don't have mountains or something similar nearby. It is like one big playground for grown-ups as well. That's one of the reasons Copenhagen is such a special city.  
How does it feel to glide into ice freezing water?
At first, it's frightening and everything in your body screams nooooo. But when you have committed and dip in, it's a great rush. I need to learn to stay calm and enjoy the moment, letting my body adapt to the situation. 
The greatest feeling is when you come up from the water and feel this warmth and energy rushing through your body.
What is your dipping routine?
I have no particular routine. I often just jump in when the time is right, when I want to go shred or there is good swell. That's why using Pond swim briefs as underwear is great. Then you're always ready. 
Why do you prefer swim briefs?
It's the closest thing to being naked and feeling free. And it works so well underneath a wetsuit. 
Who are you inspired by?
Uuuuuhh, there're so many inspiring people and athletes, who I'm inspired by. But what I look for is character, personality, style and being true to what you do.  
Can you share a dip-tip to Copenhagen harbour?
Reffen is a great place to dip in. It's close to Copenhagen Cable Park, Copenhill, Reffen skatepark and there is great beer to buy, when you are finished swimming.