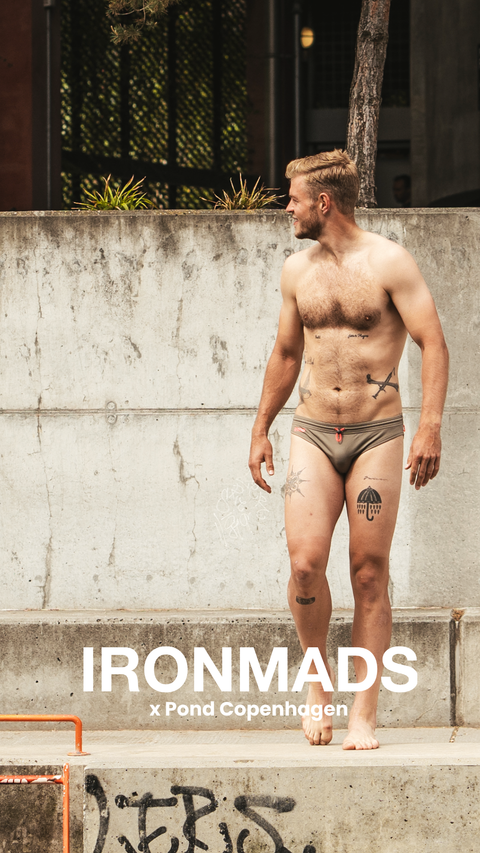 IronMads: 'I swim with friends'
UPDATE, August '22
Mads finished the race as 859th of 1711 male competitors. Considering the amount of beer and Lambrusco we shared during the summer, this is still a marvelous performance. You rock, Mads!
IronMan. World's toughest challenge. Can you train for this in less than a year and still have a social life? IronMads is ready for the challenge, so we partnered up to followed his journey and co-design a special edition racer swim brief, the POND3.
When he's not doing his day job as International Growth Manager at Copenhagen's coolest fleet, GoBoat, Mads Sander - aka IronMads - enjoys the usual pastimes of a young urban guy - socialising, eating out, maybe a bit of running and winter swimming. Then last September, he decided to compete in the 2022 Copenhagen IronMan competition - a gruelling combination of 3.8 km swim followed by a 180 km cycle ride and, to top it all, a full marathon straight after. We caught up with him to find out if he really has gone crazy.
Firstly, we have to ask… why the hell do you want to put yourself through IronMan??!
Hahahaha! That's a very good question. I always loved adventures and experiencing how my head, body, and all that stuff works. Some friends of mine had actually done Iron Man and told me of their feelings. And - like you! Many people didn't think I could do it, so I decided just to do it anyway. I guess it's the ultimate challenge I can ask of myself. I also want to prove that you can do the Ironman challenge without compromising too much on social activities and still have a life on the side with friends and family.
Have you ever done anything like this before?
I used to play semi-professional football when I was younger, and I've done a couple of half marathons (sometimes with a hangover) and a bit of cycling but nothing like this. So when I decided, back in September, to get a ticket to do IronMan, I stood in the office and said to myself, 'How do I do this?!' I had no idea how to train for it.
So what does your training schedule look like at the moment?
At the beginning of the process, I realised I needed guidance, so I got a trainer, and now I'm training (almost) every day for at least two hours. But it is also crucial to me that I still can socialise so, for example, I swim with friends. They are a big part of my motivation, even though they are not going as far and as crazy as I am. People often talk about IronMan training as a thing where you have to be alone, focus on yourself and leave other people out from your training and your life, but I want to do it differently and in my own way. And, as for nutrition - I don't have an actual plan, but I always eat healthily, so I am just continuing that. I want to keep it real!
We hear from one of your friends that you're not the world's strongest swimmer… Is this a worry?
Yes! That's the tough one that I'm terrified of. The water element is still not mine, so that's taking time. I'm working on calmness in the water, so I don't feel like I'm drowning when I'm exhausted. I can swim better now, but I'm still not Michael Phelps!
So, August 21 is fast approaching. How confident do you feel?
I'm confident! I feel I could do it in a month. But I don't want just to complete the IronMan; I want to get a good time too and show that I've trained for this and done it in my way! That's the most important for me.
If you want to follow Mads on his journey, check out @ironmads_.
This blot post was written by contributing writer and fashion editor Graham Addinall. Lensed by @strangerview_