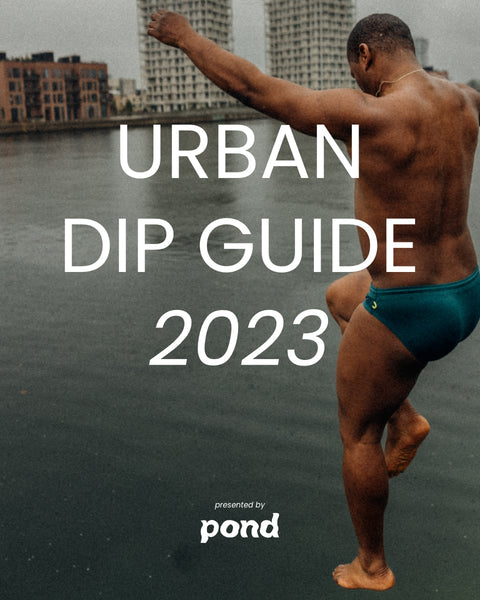 Urban Dip Guide 2023
The World's 50 Best Urban Dip Spots according to the finest selection of dipping connoisseurs there is: The Pond Community. 
More than 200 urban dippers from +25 countries have contributed with suggestions for this year's urban dipping guide. You might wonder how we've narrowed it down? And to be completely honest, it was not easy. As we sifted through the numerous spot suggestions, a pivotal question quickly emerged: What sets apart a dip spot as truly "urban"? Does the urban classification extend to beaches, or is it limited to spots within major cities? And what precisely qualifies as a major city? 
After careful consideration, we established a definitive criterion: The McDistance! A dip spot must be situated within a 10-kilometer radius of a McDonald's 🍔 to qualify for the urban dip spot guide. And that, friends, narrowed the list down to 50. 
We have, obviously, not had the chance to visit all the spots ourselves, so take care and follow local rules and regulations when dippping. And please share your experiences and any feedback #pondcph. 
See you in the pond!
MAP
AUSTRALIA
Clovelly Beach, Sydney
Maroubra - Mahon pool, Sydney
Marrinawi Cove, Sydney
Murray Rose harbour pool, Sydney
Obelisk beach, Sydney
Wollongong Head Lighthouse Rockpool, Wollongong
Leighton Beach, Perth

BRAZIL
CANADA
Hanlan's Point Beach, Toronto 
DENMARK
Krøyers plads, Copenhagen
La Banchina, Copenhagen
Svaneknoppen, Copenhagen
Teglholmens Sydkaj, Copenhagen
Sivholmen, Copenhagen
Østre Søbad, Silkeborg
Aarhus Ø havnebadet, Århus
FINLAND
Allas Sea Pool, Helsinki
Sompasauna, Helsinki
FRANCE
Cercle des Nageurs de Marseille, Marseille
Plage de la Plateforme, Nice
GERMANY 
Badeschiff, Berlin
Boberger See, Hamburg
Eisbach, Munich

IRELAND
Forty foot, Dublin
MALTA
MONACO
Solarium Beach, Monaco
THE NETHERLANDS
Bogortuin, Amsterdam
Marineterrein, Amsterdam

NEW ZEALAND
Taranaki St Dive Platform, Wellington
NORWAY
Frysja badeplass, Oslo
Sørenga sjøbad, Oslo
Gauselstranda, Stavanger
Pust Sauna, Tromsø
PHILLIPPINES
Kayangan Lake, Coron
SPAIN
Platja de Badalona, Barcelona
Playa de la Concha, San Sebastian
SWEDEN
Fredhällsklipporna, Stockholm
Vinterviksbadet, Stockholm
SWITZERLAND
Seebad Utoquai, Zurich
UK
Portobello Beach, Edinburgh
Royal Docks, London
Beckenham Place Park Swimming lake, London
Prince's Dock, Liverpool
US
Baker's Beach, San Francisco
Barton Springs, Austin
Brighton Beach, New York City
Ginger Rogers Beach, Los Angeles
Ohio Street Beach, Chicago
Sellwood Riverfront Park, Portland
Waimanalo Beach Park, Waimanalo