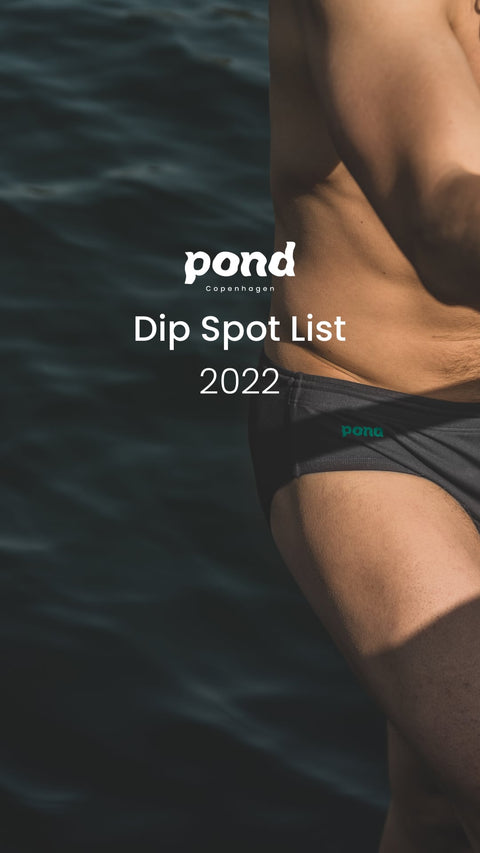 Dip Spot List 2022
Curated from our world wide community of #pondpals, dedicated dippers and hard core swimmers, here is our first ever Dip Spot List. The list represents both well known spots and hidden gems, covering most of the world (Africa and Middle East, anyone?). Thank you to all who submitted their favourite dip spot.
We have not had the chance to visit all the spots ourselves, so take care and follow local rules and regulations when dippping. And please share your experiences and any feedback to make the list even better. 
Happy dipping, and keep an eye out for #pondpals!
ALBANIA
ARGENTINA
AUSTRALIA
Whitehaven Beach, Whitsunday Islands
Hyams Beach, Jervis Bay
Bondi Beach, Sydney
Boy Charlton Pool, Sydney
Lady Bay Beach, Sydney
Bondi Beach Iceberg pool, Sydney
CANADA
Green Lake, Whistler
Lac-Saint-Jean, Quebec
COSTA RICA
CROATIA
DENMARK
Københavns Roklub (across the canal), Copenhagen
Helgoland, Copenhagen
Svanemølle Beach, Copenhagen
Amager Strandpark, Copenhagen
FRANCE
The Muzelle Lake, French Alps
La grande-motte, Montpellier
The tide pool of Saint-Malo, Brittany
Glenan Islands, Brittany
GERMANY
ITALY
NEW ZEALAND
NORWAY
Kvalvika Beach, Lofoten
Sørenga, Oslo
PORTUGAL
Tamariz, Cascais
SLOVENIA
The mountain rivers, Idrija 
SPAIN
Zarautz, Basque Region
Aiguafreda, Catalonia
Maspalomas, Canary Islands
SWEDEN
Långholmen Island, Stockholm
SWITZERLAND
UK
Men's Pond in Hampstead, North London
West Reservoir, London
South Cerney lakes, Gloucestershire
Shell Beach on Herm Island, English Channel