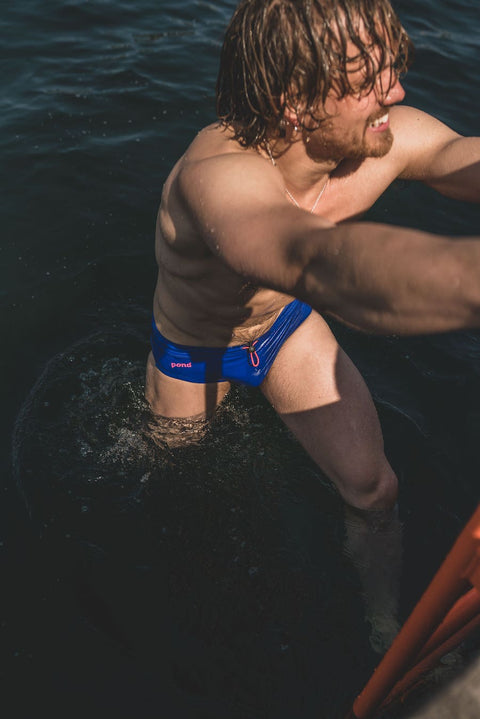 Insiders Guide: Favourite Cph dip spots revealed!
Summer is full on, water temps in Copenhagen's magnificent clean and deep-blue-green-ish harbour is about 20 degrees celcius and people are dipping from early morning to late night, music thumping from their Soundboxes while cool beers and rosé fill the glasses. 
At time of writing there is 13 official spots to get your swim on in the harbour - from  the most southernly end and all along the 12 km long harbour. Once an industrial dump, the city harbour has been completely transformed during the last 20 years and is now truly the city's collective pond (yes, you guessed it, the inspiration for our brand name).
The official swim spots are protected from traffic on the water side and most are also surveyed by lifeguards during summer. However, the iconic orange access ladders strewn from piers all around the harbour invites exploration of other cool places to go impress your friends with a back flip, to hangout or simply to cool off. Here is our guide, in the making, to Team Pond's favourite  Copenhagen dipping spots. Beware, it is technically forbidden to swim outside of the official spots. Don't say we didn't warn you…
Slusen (south end)
Basically where the harbour begins (or ends) in the southern end, Slusen is where water levels are controlled by a lock. At a small pier a community of house boats and a great café have emerged over the years. And what better place to begin the day with a refreshing dip, a hot flat white and seeing the sun rise on the city across. 
https://goo.gl/maps/2ys2ob65WueShqP5A 
Svaneknoppen (north end)
At the other end of the harbour is this hidden away spot, that attracts an in-the-know crowd without too many noisy kids. The area packs a nice lawn for some serious tanning, several piers, a bathing bridge and, at the far end of the pier, an almost secret dip spot across the big boulders with a spectacular view of the old industrial harbour across. Remember to bring one of those awesome beers from our friends at Depanneur.
https://goo.gl/maps/6dpnTmqmpgPFdANJ9
Lynetten (far east)
Far, far out on the outskirts of Copenhagen lies this very secret and local marina. Our good friends at Butchers Heat have set up a sauna, making it the perfect winter bathing spot. However, it works equally well for a summer time city adventure. Take your bike, drive across the inner-harbour bridge and find your way to this hotspot behind the gigantic communal heat plant 'Amagerværket' (featuring a downhill ski slope on the building, oh yes!).
https://g.page/butchers-heat-margretheholm-havn?share 
La Banchina (not so far east)
For the less adventurous, La Banchina is, well, not exactly secret, but still a super nice, small cove with a laid back bar, sauna and eatery. Go there late afternoon, wear your Ponds, pick up a bottle of rosé, go for a refreshing dip, chill while drying up - people watching and rosé drinking. That's Copenhagen life.  
https://g.page/labanchinacph?share 
Next to Bryggebroen (city center)
The original harbour bath 'Islands Brygge' is totally overcrowded. If you don't want to go too far for a cold splash, head to Bryggebroen and do your back flip from the small pier on the west-side. You are not supposed to go in the water here, but everyone still does, and you can soak up some sun afterwards and do some people and boat watching together with together with locals and others in-the-know. 
https://goo.gl/maps/ieygv5EyjDwnWfgC8 
SWEEPSTAKE: Share YOUR fav. place to dip &
 Win a pair of Ponds!
We are curating the official 'Pond Dip Spots Around the World'-list. And we need your input. Just share your favourite dip spot in the comments to this IG-post before August 20 and you could win a fresh pair of Pond Swim Briefs. Let's make THE list! 
Rules & Terms
The sweepstake is solely run by Pond Cph ApS and not in collaboration with any external parts. The sweepstake ends on the 20th of August 2022 at 12pm CET. The winner will be selected by a jury consisting of representatives from Pond Cph. Their desicion cannot be appealed. The winner will be contacted via Instagram direct messages at the latest seven days after the sweepstake ends. The winner will get one pair of swim briefs of their choice from Pond's current collection 2022, given that the chosen colour and size is in stock. The prize cannot be exchanged, fully or partially, for cash or giftcards. The prize will be sent, free of charge, to the postal address supplied by the winner to Pond Cph. Import tax or any other local fees added by the winner's country of residence upon arrival, is the responsibilty of of the winner.

Pond Cph fully complies with the European data protection legislation (GDPR) and no personal data of any of the sweepstake participants will be shared with other part, nor used for commercial purposes or for publication on Pond's social media channels and/or website, without prior approval from a participant.

By joining the sweepstakes you approve that Pond Cph can contact you with news and information on Pond's assortment and may share your sweepstake entry on the Pond Cph website or social media channels without prior approval.