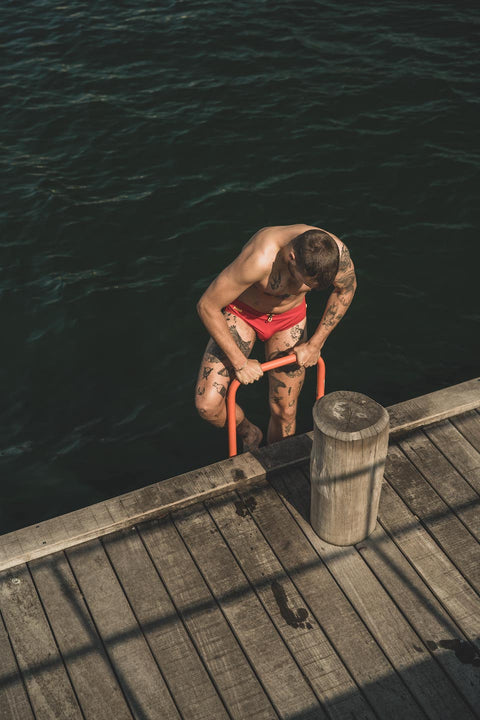 Guide to dipping in Copenhagen
In collaboration with
Wildflowers.club
, we have curated a special edition blog post on urban dipping culture.
Dive in, and may we suggest you sign up for the
Wildflowers.club newsletter
, too?
~ ~ ~ 
By Wildflowers.club 
Monday April 10th, Copenhagen 10° / 7° 🌤
~ ~ ~ 
~ TIPS ~
"I'm a member of
Det Kulde Gys
and frequent the Helgoland spot. I dip three times and go to the sauna before and after the second dip. It's a pretty sauna. Once I went to Nordhavn where there is no sauna, so only one dip there." ~
Peter
"My favorite time to dip is in the morning. It is a blank page. There is something naive, light and open-minded about mornings. There's no better way to start the day than cycling straight out for a dip. It's an opportunity to start the day before the rush of thoughts takes hold. Before morning coffee and breakfast. Before the rest of the city is fully awake. And before 'bathers' at the popular bathing spots, when you only encounter dog walkers and people who enjoy the sacred moment by the water in the morning. You get to experience the feeling of a calm morning in the middle of a busy big city." ~
Anne-Mette
"Dipping is about what I leave behind. I only bring the bare minimum with me. No smartphone, no book, no guilt. It shouldn't feel like a project." ~
Marie
"Small swimwear is on its way to Denmark. The tiny bikini has always been there in Southern Europe and South America, but in Denmark, it has varied, especially the size of bikini bottoms. As one of my friends' Portuguese boyfriend said when he visited Denmark one summer: "It looks like they are all in nappies." I bet we can count on cut-out bathing suits and one-shoulder tops again this year. The same with the 70s triangle bikini with ties, plus the 00s strapless tube top. Black swimwear is always a classic, but this year, I am sure you'll spot strong colors like green, red, pink and orange. And the sporty swimsuit is not just for swimmers, it is fashion." ~
Anne-Mette
~ SPOTS ~
It is a luxury with so many established dipping zones around the city, below is a list of those recommended by readers:
Helgoland
~ Come for the Sauna.
La Banchina
~ Awaits you with its new pier.
Lynetten
~ Optimal alternative if La Banchina is too crowded.
Nordhavn
~ Meet locals arriving in bathrobes.
Slusen
(the South end ~ Embrace the community of house boats and great café.)
Svaneknoppen
(the North end) ~ An almost secret dip spot across.
~ LEARN ~
Winter bathing is subject to many health claims. In
this podcast
, our regular contributor
Marie
spoke with a scientist to hear what is backed by science. In the episode, she also convinces a friend who can't swim to jump in the water with her.
Swim fashion changes over time
. Our friends from
Pond
provide you with a brief history. 
This edition of the online magazine
Baggrund
dives into
the history and culture of bathing (in danish)
, investigating what it tells about our society.