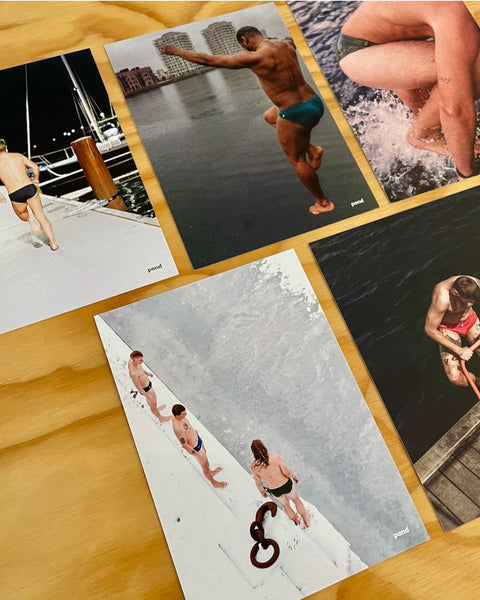 Limited Edition Art Photo Collection
Pond is born from urban dipping culture. And we work closely with some of the best photographers to capture the vibe of this emerging cultural phenomenon.
From top left, photo 1 is shot by Jakob Skoubo on a very cold january evening in Nordhavn, Copenhagen. Mads and Oscar modelled, but had to re-heat several times in a fishing boat during the shoot.
Photo 2 is also by Jakob Skoubo. Model Pedro jumped in the harbour several times in pouring spring rain. It was as authentic an urban dip as it gets. Photo 3 is from Waterfest shot by Claus Berg. Model is DØDS champ Alex Nøddeland exiting after having made a spectacular death jump, head first!
Photo 4 is lensed by Benjamin Lund. It is from our very first  shoot, when, by lucky chance, the Copenhagen harbour froze over. This never happens! But it did. Models are Lasse, Emil and Joachim. Finally, Anders wearing POND1 Flaming Red in photo 5 is captured by Mads Tolstrup on a chill, but very nice, spring day in Copenhagen. 
By popular demand, we have turned these five iconic urban dipping images into a limited edition art photo collection.
We have made 100 A5 high quality prints of each image on premium 260g Chromo paper. Each print is numbered. And we will never print them again like this. 
When you place an order on our webshop, you automatically get one random print for free. As long as stock lasts.